A New Build Family House, Surrey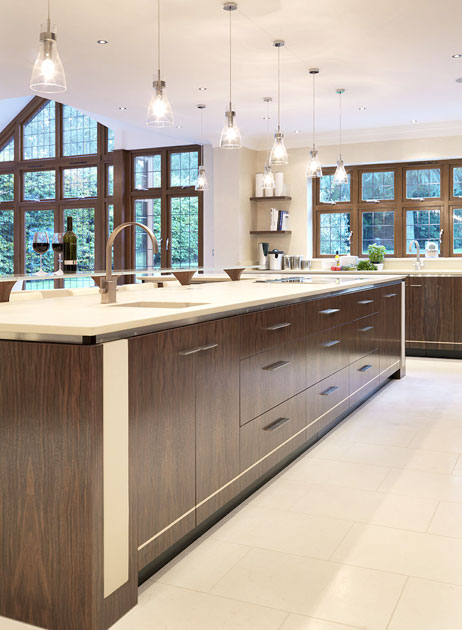 The Detail
The chosen colour scheme for the room is walnut and cream. The size of the space and the large windows that let plenty of light in have allowed us to use a dark walnut for the furniture. This is complimented with cream leather inset panels, chair, stool & bench upholstery with cream caeserstone work surfaces and cream floor tiles. With the windows and doors to the room also in walnut the two colours have created a very strong visual bond to all aspects of the space.
The walnut itself is a very special veneer. Being English grown it is unique, with a fantastic grain pattern and beautiful range of colours. It is best appreciated on the tall cabinets either side of the fridge and ovens. Here, the generous width of the veneer leaf has been used to great effect to create the book-matched heart running up the centre of the double doors.
The accessories within the kitchen have all been carefully chosen to compliment. The glass bar is of a clear glass without the green colour associated with plate glass. The taps and sinks are stainless steel, functional but relatively discreet. The stainless steel shadow gap below the worksurface and cornice ties all the stainless steel accessories and handles into the fabric of the design. The edge detail of the stone, the moulding of the cornice and the handle shape are all connected and work together to give the kitchen integrity.
Copyright Simon Bray and its licensors all rights reserved
Website developed by Prominent Media